Published: Monday, May 16, 2022 10:43 AM
CHICAGO – To give people the opportunity to ask questions, interact with their neighbors and get updates about what's going on in the community, State Senator Elgie R. Sims, Jr. is inviting residents to attend one of his virtual Coffee and Conversation events.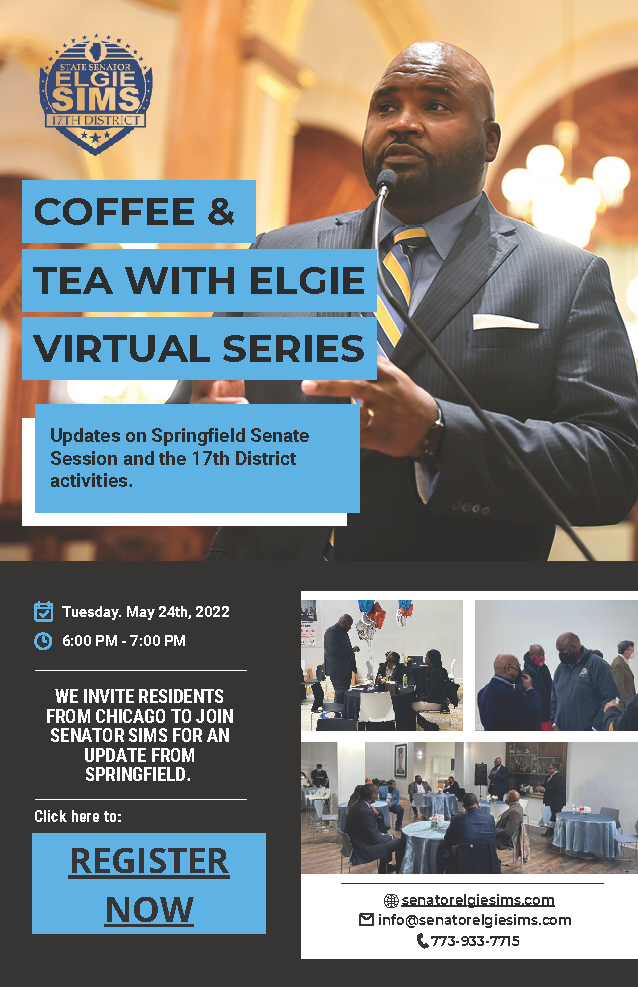 "This Town Hall series provides my neighbors and to engage in a discussion about how we can work together to make our community even stronger," said Sims (D-Chicago). "I encourage people to join me to talk about the issues facing our community and to hear updates from what we accomplished in Springfield."
The first event will be held Tuesday, May 24 from 6-7 p.m. virtually to allow people more access to participate from the comfort of their home. Chicago residents interested in attending should register by clicking here.
Each Coffee and Conversation event serves as an open forum for community members to engage in conversations with Senator Sims and each other about issues facing the region and the state. Senator Sims will give updates from Springfield and be available to discuss questions and concerns of residents.
The event is free and open to area residents and any resident of the 17th District is invited to attend any of the scheduled meetings. People with questions regarding the event are encouraged to contact Senator Sims' office at 773-933-7715 or This email address is being protected from spambots. You need JavaScript enabled to view it..
Senator Sims will also host Coffee and Conversation events for South Suburban Cook County residents and Will and Kankakee County residents next month.
Category: Press Releases